Training to undertake respirator fit testing in your workplace
Is respiratory health of your workforce a risk for your business?
If people in your workplace are required to wear a respirator then you have a respiratory health risk. Understanding if the respirators used are effective is an important part of the safety processes. Current standards mean any person required to use a full face respirator must be fit tested by a competent person.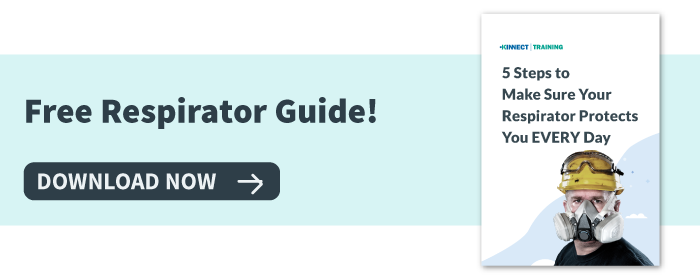 Know how to fit test your workforce and manage respiratory health.
KINNECT Training now offers a workplace training program to assist businesses meet their workplace health and safety obligations by providing a Respirator Fit Test Training. Know how to manage respiratory health in your workplace.
Have your own competent person undertaking respirator fit testing
Understand applicable State or Federal workplace health and safety legislation
Understand correct use and maintenance of respiratory protective equipment
Interpret and report testing results
Know how to manage a respiratory health program in your workplace
Address AS/NZS 1715 Selection, use and maintenance of respiratory protective equipment
What people say about the course
Rowan was an excellent instructor who has a deep understanding of the course subject matter, he has an engaging lively manner and is able to present extremely well even in a Webinar. Some courses that take place on a webinar lose some value and it can be death by PowerPoint, but Rowan engages with his students and makes the course relevant to the industry they work in. Excellent course, excellent instructor, exceeded my expectations of a course that was not taking place face to face.
– Jess, J. Oct 2020 – Brisbane
Flexible delivery options to meet your needs
Face to face – on-site and public courses
Designed to meet Australian Standards for all workers required to wear a respirator at work
Ongoing support and education available to all students
Australia wide delivery – in class and on site
Includes the issuing of your personal Respirator Fit Tester ID Card
Get a commitment to your knowledge with our KINNECT Training Guarantee
The KINNECT Training Guarantee
KINNECT Training wants you to be confident and capable in your role in respirator fit testing. If in the following 12 months of completing your course you would like to confirm your knowledge and skills you are welcome to come to any scheduled public face to face course for Respirator Fit Testing – it's on us!
Easy Enrolments
Immediate confirmation to student and booking contact
Credit card, direct debit and company account payments available
Need help to set-up your respiratory health program?
KINNECT Training can assist with setting up you complete respiratory health program.
Understanding the risk in your business and the risk management processes
Understand your compliance and records management requirements and know how to implement the right systems
Manage your PPE selection, use and maintenance
Understand your health surveillance requirements
Get assistance with testing equipment purchase and use
Implement and manage workplace respiratory fit testing
Contact KINNECT Training on 1300 591 548 for more information.