What you need to Know
Get the qualification designed for workplace drug and alcohol testers backed by the experience of over 10,000 workplace drug and alcohol tests every year!
This course provides you with the knowledge and skills to be able to undertake the specimen collection process when testing for drugs of abuse as required under Australian Standards. It includes legislation and best practice around workplace drug and alcohol testing, the collection of breath, oral and urine fluid samples and the confirmation testing and chain of custody process. Includes a thorough practical component with current industry exposed trainers, assessors and clinicians.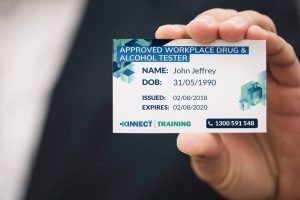 Face to face (1 day) at your place or ours
Online / blended programs minimising time away from work
Webinar delivery available
Delivered by current industry practitioners
Available Australia wide
NEW – includes the issuing of your personal Drug and Alcohol Tester ID card.
Easy Enrolments
Immediate confirmation to student and booking contact
Credit card, direct debit and company account payments available
Online blended students get started immediately and complete when it suits you.