Become an expert in workplace drug and alcohol testing.
The risk of injury or damage to reputation through a drug and alcohol incident at work is real. Knowing how to manage the risk in the workplace and how to respond appropriately is pivotal for businesses from all industries. Getting the right training for you or your workforce that is designed to help you understand the risk and undertake testing effectively is essential.
This KINNECT Training program in workplace drug and alcohol testing guides you through the maze that is workplace drug and alcohol management from policy and procedure implementation, understanding testing processes and equipment to workforce communication. This program is more than just learning how to test for drugs and alcohol. This is the path to becoming an expert in managing drug and alcohol risk.
Book now through the links below, call 1300 591 548 or get in touch through our contact form. Class numbers are limited to ensure you get your questions answered and the learning outcome you need.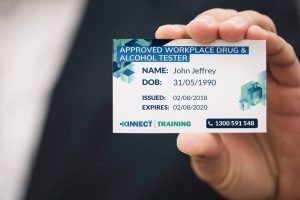 Flexible Industry Leading Training
Face to face – On-site – Online – Webinar
Start immediately
Online / blended programs minimising time away from work
Australia wide delivery – in class and on site
Face to face (1 day) at your place or ours
NEW – includes the issuing of your personal Drug and Alcohol Tester ID card.
Testing equipment specials – do your training with us and you're entitled to great pricing on quality drug and alcohol testing equipment.
The KINNECT Training Guarantee
KINNECT Training wants you to be confident and capable in your role in workplace drug and alcohol testing. If in the following 12 months of completing your course you would like to confirm your knowledge and skills you are welcome to come to any scheduled public face to face course for Workplace Drug and Alcohol Testing – it's on us!
Need Drug and Alcohol Testing Equipment?
KINNECT Training is pleased to announce that we can assist with the purchase of high quality and reliable drug and alcohol testing equipment and have this available in the training program. Get familiar with the testing equipment you are going to use in your workplace. Call 1300 591 548 for more information.